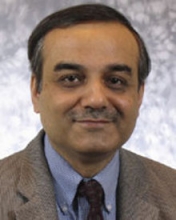 Biography
Abhijit Chatterjee is a Professor in the School of Electrical and Computer Engineering at Georgia Tech and a Fellow of the IEEE. He received his Ph.D in electrical and computer engineering from the University of Illinois at Urbana-Champaign in 1990. Chatterjee received the NSF Research Initiation Award in 1993 and the NSF CAREER Award in 1995. He has received four Best Paper Awards and three Best Paper Award nominations. In 1996, he received the Outstanding Faculty for Research Award from the Georgia Tech Packaging Research Center, and in 2000, he received the Outstanding Faculty for Technology Transfer Award, also given by the Packaging Research Center. Chatterjee has published over 300 papers in refereed journals and meetings and has 11 patents. He is a co-founder of Ardext Technologies Inc., a mixed-signal test solutions company and served as Chairman and Chief Scientist from 2000 - 2002. He is currently directing research at Georgia Tech in mixed-signal/RF design and test funded by NSF, SRC, MARCO-DARPA and industry.
Selected Publications, Patents
Research Interests
VLSI and mixed-signal testing
Fault tolerant computing
Low power circuit design
Computer algorithms
Digital automation
Distinctions
Best Paper Award, Design and Test, ICCD, Boston, MA, November 1992. § NSF Research Initiation Award, 1993.
Prof. A. K. Choudhary Best Paper Award, IEEE VLSI Design Symp., Calcutta, India, January 1994.
Elected to Senior Member IEEE, February 1994.
NSF CAREER Award, 1995.
Named Collaborating Partner in NASA's New Millenium Project, 1995.
Received Outstanding Faculty for Technology Transfer Award, 1995-1996, Packaging Research Center, Georgia Tech, October 1996.
Received the Best Panel Award from the 1996 VLSI Test Symposium, for organizing the most outstanding panel at the conference.
Nominated for the Best Paper Award, IEEE VLSI Design Symposium, Bombay, India, and January 1993.